Now that we're near the end of another week of trading, here's a quick summary of the trades I took. This will provide the first step of next week's trading plan.
NZDUSD: Short closed early
I took the NZDUSD short trade mainly because it tested a key daily level. If this level held up, we could see a massive sell-off to ideally the 0.683~ price level as marked near the bottom of my chart. Sensing selling pressure was dying off over on the 4-hour time-frame, I ended up getting out of this trade with +22 pips. Nevertheless, today's close is very interesting. It is an inside bar showing the lack of buying pressure unable to break past previous highs. This would be the first indication for a bearish next week. Secondly, we're back to a retest of that daily level. Also note that it would be a good indication as well if this pair failed to close above that level.
I don't want to be "deadset" on taking a bearish stance on this pair for the week ahead. If we look at the weekly time-frame, we most definitely would take a bullish stance if this pair breaks above both relative highs. This would place our next price target at the 0.77~ level. This is a key pair I'm monitoring for the week ahead.
GBPAUD: Short off 4-hour level, close nearing daily level
This trade was very standard. I took a short position as it tested the 4-hour level marked by the faded dashed line since it is less significant. I closed it out just above the daily level at the first sign of overlapping bars over on the 4-hour time-frame. Ended up closing out +120 pips.
USDCAD: Betting on the BoC rate hike
This trade was pretty much purely based on the fundamentals of the Bank of Canada rate hike decision. This rate hike would be the first in seven years and sent a sharp impact to the Canadian Dollar. Unfortunately, I only caught the first 60 pips of the total 230~ pips movement. Nevertheless, this trade also went well with a +59.9 pips gain. I have no immediate plans to attempt to ride the long term trends, but for now I would be watching for a short term retracement before entering a sell-and-hold position.
AUDUSD: Long entry in between daily levels
This trade is very straight forward. I entered as soon as I sensed the daily range was coming into an end. When the daily open was above the pair of bearish and bullish bars, it was a signal that buying pressure was bound to resume once again. I entered this trade with the target of hitting the next major daily level. I didn't expect it to continue to go through given that the daily level is shared with the weekly resistance as well. Now that this break is above the weekly resistance, we would definitely be looking for a long entry opportunity sometime next week.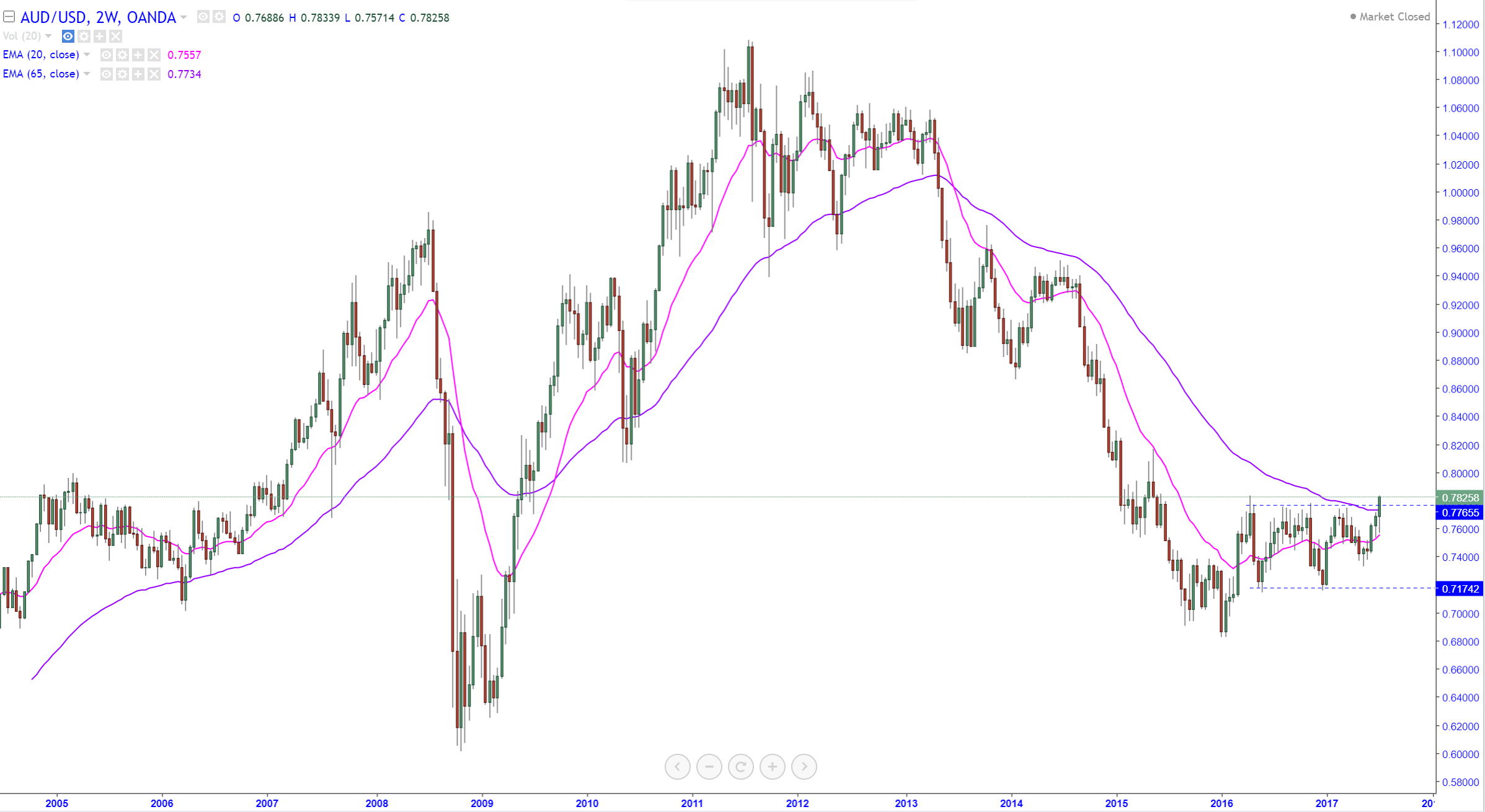 How this weekly level plays out will be very significant as it would provide the first indication of this downtrend bottoming out.
Over on the two week chart, we notice quite a few things. Here's listed below in order:
Failure to break lower lower – points to selling exhaustion.
Price is in the progress above both our faster 20-period and slower 65-period exponential moving average signalling the beginning of uptrend.
Strong movement breaking above a key daily and weekly resistance level.
While it certainly doesn't make much sense to be predicting tops and bottom, this is a key indication that any shorter term trades on the AUDUSD pair should be held buy side.
AUDNZD: Resistance successfully broken through
This trade is also very standard trading a resistance breakout. The first indication of taking this long position is the bearish candle with a huge lower wick. That 4-hour period closed above the previous resistance level. Additionally, the resistance level also seems to be getting weaker which we've observed through the sell-off failing go lower than previous lows. In order to get the best reward to risk ratio possible, this entry did not wait to see the bullish bars form in the hours to come. Given a high correlation with the AUDUSD pair, I expect the Australian Dollar as a whole will be bullish for the weeks to come. This is the final successful trade close-out at +90.9 pips.