We experienced much volatility and some major swings this week especially as we neared Friday's market close.
This is expected to continue for the upcoming weeks and here are the key technical setups I'm watching at the moment.
The EURUSD pair rallied approximately 270~ pips this week with Friday's close breaking another key price level marking a support turned resistance zone. Given the strong break through above, this is a a first indication of continuation. Usually, I expect to see a counter trend trade on Fridays as traders close positions prior to the weekend. One long entry potential is if this pair gaps down on market open, but quickly recovers.
Over on the hourly time frame, I don't see any strong zones to be watching out for that marks high probability turning points. I don't see any clear indication where price will pull back and test some zone for another long entry. For now, I keep this setup on the back burner without much potential for entry in the near future.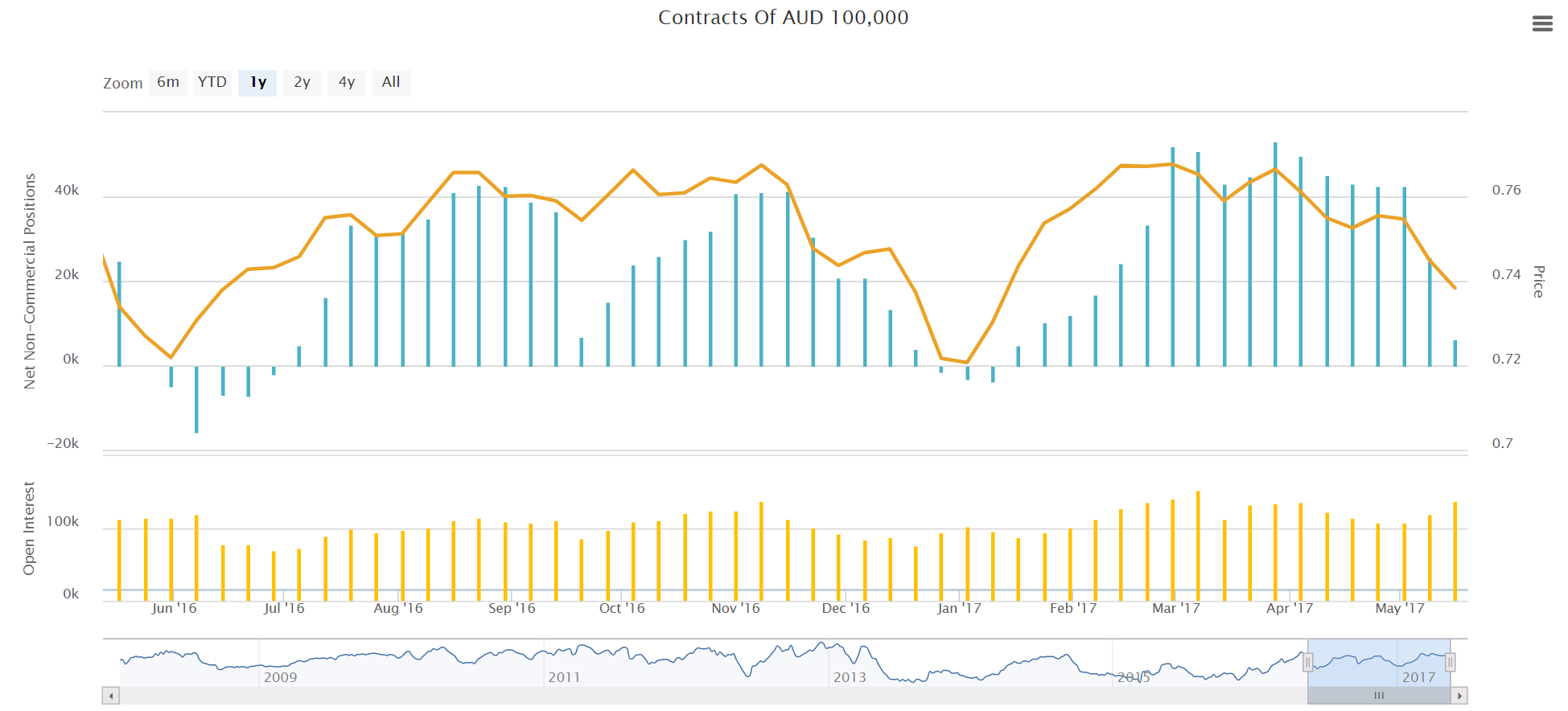 Before jumping into a much more immediate trade setup I'm watching, let's take a look at this week's COT report. The net non-commercial long position of the Australian Dollar dropped from 26k the previous week to 6k. In my previous post, I mentioned the Australian Dollar having a shorter term bullish sentiment, but overall I am bearish. This is indicated by the half-day chart below.
This is a 12-hour chart just to fit everything in place, but the two potential resistance levels do hold up even on the 4-hour time-frame. Looking at the most recent bullish movement, it indicates a period of weak buying pressure. The 125~ pips sell-off began May 2nd and paused for a few hours before further setting off again to a grand total of 200~ pips. Since then, this pair has been slowly climbing from a mixture of profit taking and short term long entries. Nevertheless, we establish this downward trend by the lower highs and lower lows since the end of March of this year.
One bit of positive fundamental news affecting this setup is the employment figures. This week, Australia reported an employment change of 37.4K and a lower unemployment rate of 5.7%.
For monitoring this setup, I wouldn't go below the 4-hour mark just because the price action becomes way too chaotic. For my actual entry, I would look more at the hourly levels. The lack of strong bullish candles must be discounted because we were near market close anyways. For the market opening, I plan to sit out any gap ups since that is a continuation of counter-trend bullish pressure. For gap downs, I would actually wait for it to recover to Friday's market close level and see if that level holds up as an area of resistance.
Over on the GBPUSD daily time-frame, I remain relatively bullish given how selling pressure failed to force this pair lower. Meanwhile, we see three troughs marking the fill-up on long positions. With the lack of selling pressure, further long entries are expected to drive this pair higher especially given that it already crossed and is holding above the neckline.
It is actually possible to make a gap play right now on market open. We establish a relative low point marking the exhaustion of further selling pressure. It is possible to go long right now or at least wait for confirmation and seeing that gap down gets filled along with further continuation breaking out above the the most recent relative high. I personally wouldn't take any GBPUSD trades right now given the erratic movements on the lower time-frames.
Note: I'm using a 2-day time-frame to fit everything into one screen These levels are just as clearly defined on the daily time-frame as well.
The USDJPY pair was rather unpredictable last week with an expected bullish week turning bearish mid-week. Currently, political issues in the United States and the threat of North Korea is expected to keep this pair volatile. The key signal I'm looking for is if whether the resistance turned support is going to hold. Since the price already crossed below it, we can narrow in on a lower time-frame to get an optimized short entry.
A bit more into the news:
North Korea fired a ballistic missile into the waters on the east coast for the second time last week
North Korea also claims success for its intermediate-range ballistic missile capabilities
Bullish forecasts have been cut surrounding the U.S. Dollar given the probe into Trump's relations with Russia
This pair is not one I have intentions on trading for the time being.
Meanwhile, I took a small position playing off the continuation sell-off on this pair. Current risk with the USDCAD pair is that Victoria Day on May 22nd is considered a national holiday in Canada. Liquidity may be a bit lower for Canadian Dollar pairs hence the smaller position I took on. Market open bearish signifying keeping the support turned resistance point intact. Essentially, I am looking to get out of this position if it breaks above the market open highs.
Currently, these are the pairs I'm watching at the moment. Stronger monitoring of the AUDUSD setup as it marks a potential fresh bearish sell-off.