Getting ready for another week of charting and analysis, not much has happened over the weekend. Nevertheless, we do have some expectations for the economic releases for the week ahead.
Here is a summary of the recent news releases:
Chance of June rate hike is at 74% and 44% chance of two more rate hikes by the end of this year
Euro's net non-commercial position crosses positive for the first time since May, 2014 at at 22.4k
G7 nations continue to fear Trump will plan to revive protectionism policies if trade is deemed not free and fair (vague, open to interpretation)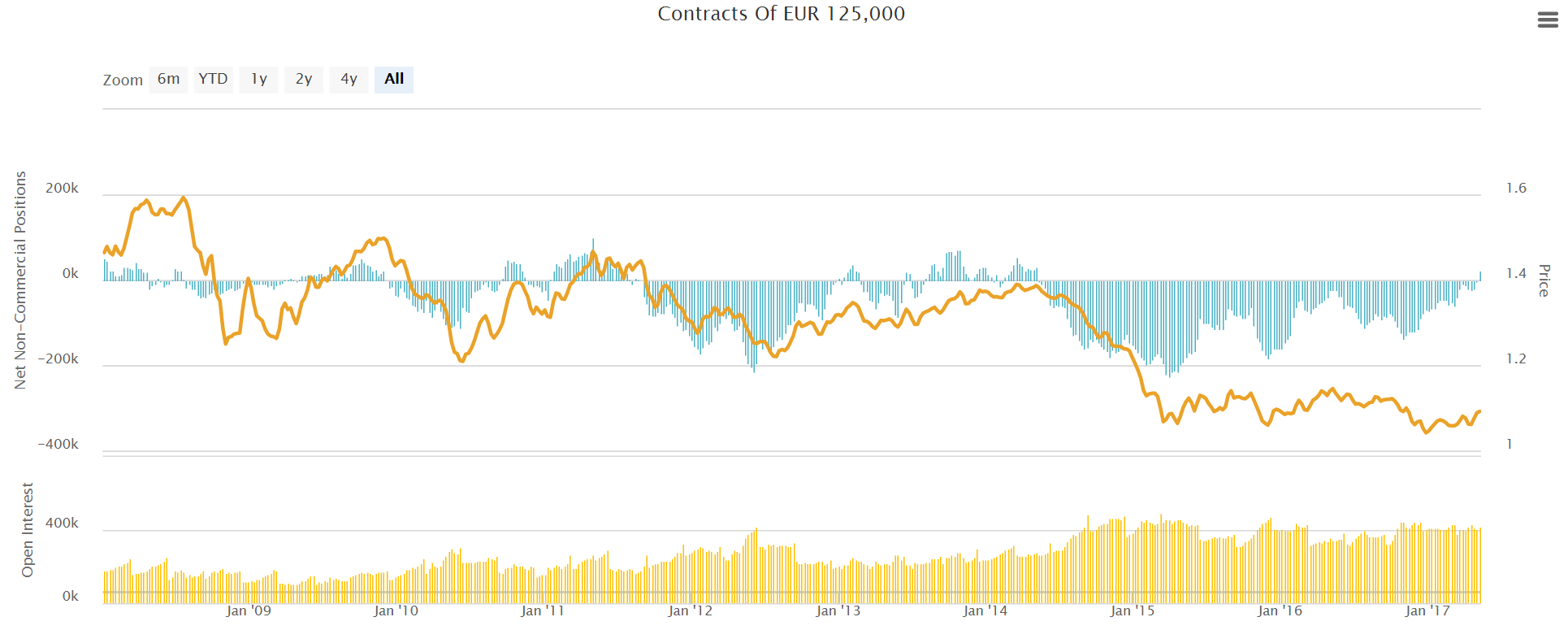 Similarly, the Euro spot market has been in an uptrend and we expect this to continue over on the shorter time-frames that we are more interested in.
Starting off on the daily time-frame, last week's gap open sustained quite nicely which continues to be a bullish sign especially with this week's open. Now that the French election is over, there were no major releases over the weekend and so we do not expect to see any gaps.
Over on the hourly time-frame, there isn't much to watch right now. The first zone is a breakout above the previous relative highs. The second zone is a neckline break lower. These are the two closest decision zones with high probability turning points. In the meantime, I am currently waiting until after market opens especially if we do see another gap.
There's not much I'm really watching over on the AUDUSD pair other than the fact that it was in a heavy down-trend last week and continuous breaking below necklines. For the week ahead, I will continue to focus on the trending nature of this pair. The damper on the Australian Dollar is partially driven by a poorer gold performance especially in the second half of April. This and also the -0.1% change in the month over month retail sales figures release last week.
Given the very choppy nature of this pair, any setups will be reduced down to the 15-minute time-frame in order to hold all positions on a shorter duration. Any gap break-outs will be a good indication of the short-term trends for next week.
Similarly, I do not expect to make any long term plays with the USDJPY pair given that it's in a short term down-trend as well. This is observed through looking at the fractals making lower lows. As I'm making this post, the Sydney session just opened up as you can see from the gap down. The short term sentiment will be formed as we observe how how this gap fills up. If this gap down fills up and continues higher past our support turned resistance zone, then we can safely take a bullish stance for this week.
Similarly, not much is going on with the USDCAD pair as it also remains stuck in the hourly range. Currently, I still maintain a bullish sentiment given that it's in a strong uptrend and this range could be temporary until we see a breakout going on. Fundamentally speaking, the Canadian Dollar faces a major risk as Trump looks to implement a protectionist stance on Canadian lumber and steel exports. In the meantime, I would be looking to scale in as price nears the lower bound zones.
As of the moment, these are the pairs I'm monitoring. Stay tuned for updates.