Volatility spiked in recent weeks after recovering from a 2007 low. This means that there are more trading opportunities to be exploited, but it also requires trading conservatively. We can only expect the markets to become more volatile as the not even the first quarter in 2015 have we seen volatility surpass the past two years.
Take a look at the EURUSD volatility, you should expect other pairs to have similar spikes: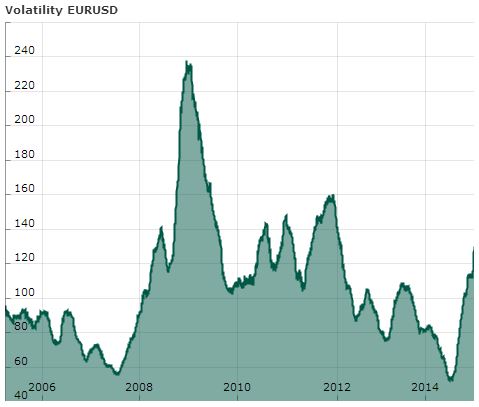 Speaking of the EURUSD, this pair has been recovering from its losses since the beginning of march. This is partially due to a string of disappointments in the U.S. economic releases. Existing home sales rose to 4.88 M beating the previous 4.82 M previous, but still disappointed underperforming the forecasted 4.91 M. Retail sales also disappointed at -0.6% underperforming the 0.3% forecasted. On the upside, the unemployment rate has been kept under control. With mixed indicator results, we will definitely expect wild market swings.
First up, are we actually seeing double top formations? Both the USDCAD and USDJPY have shown double top chart patterns. Rather than mindlessly following these chart patterns, it is important to understand what they show.
Not the best looking chart pattern, but your key takeaway is that price failed to break a new high. It is important to take a look at the long term horizon. In the monthly time frame, you will actually notice that this pair is sitting at 2007 highs. The only time this pair traded higher was in late 2001.
Looking at the candlestick behavior, you can tell that extreme growth does not last long. In 2007, this pair literally just shot straight up without as so much of a trend. We have seen pretty much the same thing for the past two years. Is it possible to conclude that this pair has capped off? Keep in mind that most traders are still bullish on the USD. When the Feds raise rates, this will cause this pair to surge once more. Unless you have the capital to take on several hundred or even thousand pip losses, chances are you do not want to sell and hold this pair.
Instead, why not institute a trailing stop loss? It is probably better to rack up the commission charges with a few short term selling paired with a trailing stop loss. In the event that a news release comes out and you are not present to close your trade, the stop loss and trailing stop loss combination will take care of it nicely.
The same goes for USDJPY as it forms a double top chart pattern as well. Once again, this simply means that the price has failed to break new highs. Chances are buyers are not willing to pay for a higher price.
You may argue that this probably isn't the best double top formation. However, think about it this way. The price took an awfully long time to reach the previous high at 122.00~. It experienced a few sell-offs before gradually working its way up to this new high. After this point, we experience another round of selling. The longer time frame also paints a similar picture.
Once again, this is a 2007 high. The overlapping candlesticks would appear as a range on a lower time frame. This is another sign that the price is struggling to break above new highs. This would also be a good short term pair to sell with a trailing stop loss. Again, you will rack up a bit of commission costs. However, you do not need to to let your losses run a few hundred to thousand pip deep.